The Privatisation of the Management of Council Housing Began with New Labour
In the long-forgotten case of Director of Public
Prosecutions v Smith [1961] A.C. 290 it was held that 'a person is presumed to
intend the natural and probable consequences of his acts.'
In this case a policeman had stopped a car
and when it accelerated away he had clung on.
The car zig zagged and eventually threw the policeman off into the path
of an incoming car, killing him.
Jim Smith was convicted at the Old Bailey in April 1960 of the murder of
PC Meehan. At the Court of Appeal the
charge of manslaughter was substituted for murder but on appeal the House of
Lords substituted the original charge of murder. In those days murder was a capital, hanging
offence but it was agreed that it would be wrong to reimpose the death penalty.
Brighton's successful campaign against the Labour Council's attempt to privatise council housing was led by Defend Council Housing
Some might say that this was a harsh
decision substituting an objective test, that of the 'reasonable man' for the
subjective state of Jim Smith's mind, yet this was the decision of the highest
court in the land as to the mens rea
or guilty intend of someone who kills another. Of course in reality people often don't intend the consequences of their own actions because they don't have sufficient foresight, but if you act with sufficient recklessness or gross negligence you can be convicted of manslaughter. Sometimes however it is so obvious what the consequences of one's actions are that there is sufficent 'mens rea' for there to be a conviction of murder.
Tenants celebrating a 77% rejection of privatisation of council housing
I
mention this long-forgotten case of murder because it is most apposite to what
happened at Grenfell Tower. No one would
suggest that Housing Minister Brandon Lewis deliberately set about to cause the
deaths of 100+ residents of Grenfell Tower yet that was the consequence of his
actions. If there was any justice then he, his successor Gavin Barwell and the leadership of Kensington Council would be starting terms of life imprisonment, with a recommendation that their actions are so heinous that they should serve a full life term.
Brandon Lewis – former Housing Minister who rejected the recommendation for sprinkler systems in tower blocks
After the death of 6 people in the
Lakanal
House fire
in Camberwell, South London in 2009, Lewis warned MPs
against beefing up fire safety regulations, because it could discourage house
building. He accepted that automatic
sprinklers could save lives, but said it was not the government's
responsibility to encourage developers to fit them. It should be left to the market and of course
the market in this case, Kensington Council, opted for the cheapest option, i.e. no
sprinklers. Brand Lewis added
that "
The cost of fitting a fire
sprinkler system may affect house building—something we want to encourage—so we
must wait to see what impact that regulation has."
Sajid Javid – another criminal in May's cabinet
A dozen letters were sent by the All-Party Parliamentary Fire Safety and
Rescue Group in the aftermath of the 2009 Lakanal House fire and it warned the
Government that it "could not afford
to wait for another tragedy", according to BBC Panorama. However wait was exactly what Theresa May's government
did.
The parliamentary group wrote in March 2014:
"Surely … when you
already have credible evidence to justify updating … the guidance … which
will lead to the saving of lives, you don't need to wait another three years in
addition to the two already spent since the research findings were updated, in
order to take action?
"As there are estimated to be another 4,000 older tower blocks in
the UK, without automatic sprinkler protection, can we really afford to wait
for another tragedy to occur before we amend this weakness?"
In response the Liberal Democrat minister Stephen Williams replied:
"I have neither seen nor heard anything
that would suggest that consideration of these specific potential changes is
urgent and I am not willing to disrupt the work of this department by asking
that these matters are brought forward."
to which the All
Parliamentary Committee replied:
"We're
at a loss to understand, how you had concluded that credible and independent
evidence which had life safety implications, was NOT considered to be urgent.
"As a
consequence the group wishes to point out to you that should a major fire
tragedy, with loss of life, occur between now and 2017, in for example, a
residential care facility or a purpose built block of flats, where the matters
which had been raised here, were found to be contributory to the outcome, then
the group would be bound to bring this to others' attention."
Clearly Stephen Williams, who was the 'liberal' part of the Tory-Lib Dem
coalition took exactly the same attitude to fire safety as his Tory colleagues.
Sir Eric Pickles, the far-Right racist and Zionist former Communities Secretary, ignored all concerns about fire regulations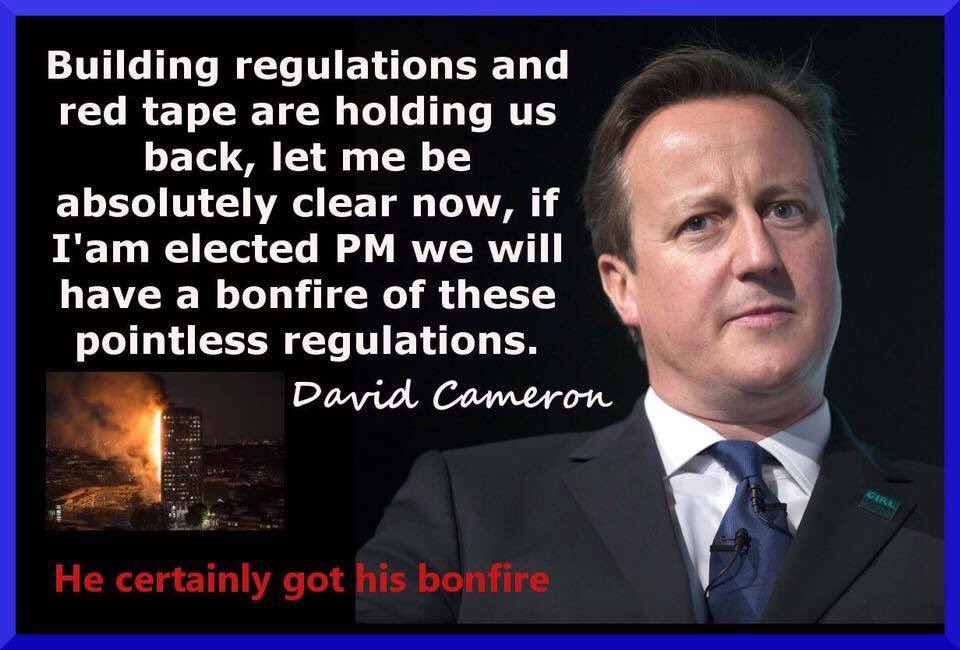 Making a Bonfire of Red Tape
But it wasn't just the Tories who are responsible. New Labour in the form of Gordon Brown also
boasted that there was going to be a '
bonfire of red tape'
and regulations that inhibit free
enterprise. The Independent of 14th
March 2005 reported that Brown had promised
'to cut away the tangle of
red tape suffocating British companies and is planning heavyweight appointments
to a new executive body to oversee a streamlining of business rules and
regulations
."
Chancellor to promise a Budget
bonfire of red tape
New Labour's record on social housing was even worse than that of the Tories. The Spectator magazine spoke of how, under New Labour
local authority housing passed into private hands far faster under
Labour than Conservative prime ministers….Despite the huge building boom under Tony Blair and Gordon
Brown, only 13 percent of the 2.5 million homes which rose up under
their watch were built by 'social' landlords. This compares with almost a
quarter of 3.8m homes under Margaret Thatcher and John Major's reign.
Even David Cameron appears on track to match his predecessors' trend, in
market share at least. If Labour had caught onto the coat tails of
their building boom to the same degree as the Tories, almost 300,000
more social homes would be dotting this land. Labour's claim of being the party of council housing is in tatters
Whichever way you look at it Labour's council housing halo
has slipped. Investment in housing plunged under Blair and Brown to its
lowest level for decades. During their first 12 months in power they
spent less than in any year of Thatcher and Major's 18-year reign. Their
poverty of social housing ambition persisted throughout most of their
administration. A big increase only arrived in its dying days- as a prop
for builders tripped up by the financial crisis.
Of course the reaction of both the government and Chelsea and Kensington
Council has been a complete embarrassment.
Theresa May didn't dare set foot at Grenfell Tower unless accompanied by
a posse of police to protect her. The poor
dear was apparently afraid of being shouted at!
This is the same woman who a few months ago was pretending to be the
workers' best friend. Instead a pitiful
£5m has been allocated as government compensation.
Kensington Council's reaction has been even more
embarrassing. Their complete indifference to the tragedy has been stark. They acted like guilty men. None of the Councillors has even dared set foot
anywhere near the disaster area. A Council
which has only ever seen its duty as catering to the richer inhabitants of the borough
and which has actively sought to rid the borough of its poorer tenants was
unlikely to react empathetically.
The invisibility of Kensington and Chelsea
council has been little short of scandalous. The visits of May and her
colleagues have been badly handled, ineffective and twitchy. They have more
closely resembled sallies into enemy territory than a campaign to reassure
fellow citizens.
Have the Tories learned
nothing about compassion?
Sir Martin Moore-Bick – a fine representative of all those whose behaviour led to the Grenfell Tower tragedy – he has previously displayed his sympathy for Kensington Council's policy of social cleansing
Theresa May moved quickly to announce a judge led inquiry,
knowing full well that it would be 3-4 years before it issued a report and she
would, politically, be long gone. Just
to make sure she moved to appoint as the Head of the Inquiry one Sir Martin
Moore-Bick, a former Appeal Court judge, who specialised in commercial law.
Sir Martin distinguished himself in a 2014 case, when he said
Westminster council could rehouse Titina Nzolameso, a single mother with five
children, more than 50 miles away in Milton Keynes. He ruled that it was not
necessary for Westminster to explain in detail what other accommodation was
available and that it could take "a broad range of factors" into account,
including the pressures on the council, in deciding what housing was available.
In April 2015, the supreme court reversed his ruling, pointing out that the
council had not asked "any questions
aimed at assessing how practicable it would be for the family to move out of
the area". To imagine that this
scion of the ruling class will have any interest in examining the causes of
what happened, is to imagine that kosher pigs might fly. Grenfell
Tower inquiry judge has controversial history in housing cases


Indeed Moore-Bick made it clear in his meeting with the survivors of the
fire that his Inquiry would not be a wide ranging one. He had no intention of examining the
political decisions that led to the installation of the flammable cladding and
the failure to install the sprinkler system.
All he wants to do is examine the cause of the fire (which is already
known – a Hotpoint freezer) and what led to the fire spreading quickly, which
is also known (flammable cladding). No
doubt he will rap over the knuckles a few of the long since gone Kensington Councillors
without in any way addressing the root causes of what happened – the fact that
housing for poor people has been subject to the decisions of the market.
There needs to be an insistence by the Labour Opposition as well as campaigners that Moore-Bick is totally unfit to be made Chair of the Inquiry into the fire. What is needed is a radical figure like Sir Stephen Sedley or Michael Mansfield QC.
Kensington Council outsourced the management of its social housing to an
Arms Length Management Organisation the Kensington and Chelsea Tenant
Management Organisation. The tenants had
no say in the management of their own properties. Repeatedly they demanded that fire precautions
be taken only to be spurned.
This private body which had direct responsibility for managing Grenfell Tower and other social housing has avoided the limelight so far – if anything it is the most culpable of all – it is unacceptable that this kind of unaccountable body should be charged with life and death decisions
Only last November, the Grenfell Action Group warned of
"dangerous living conditions" and said: "It is a truly terrifying thought but
the Grenfell Action Group firmly believe that only a catastrophic event will
expose the ineptitude and incompetence of our landlord, the KCTMO." Grenfell
Tower residents say managers 'brushed away' fire safety concerns
New Labour did their best to put Council housing in the hands of private sharks


It is worth remembering that this introducing of marketisation into social
housing was not just the actions of the Tory-Lib Dem coalition. It began with New Labour. In Brighton in 2005-6 the Council under Ken
Bodfish decided that they wished to be rid of council housing. New Labour nationally had blackmailed councils
by saying money for renovations and repairs would only be allocated to third
party private sector organisations which managed properties, not if they
remained under the control of Councils.
A national organisation Defend Council Housing was set up and in Brighton
& Hove we campaigned fiercely against the Council proposal to set up what
was called an Arms Length Management Organisation (ALMO) which would take over Council
properties.
Two Labour Councillors, Jack Hazelgrove and Francis Tonks were expelled
from the Labour Group and Party for campaigning against New Labour's housing
policies. A campaign which was funded by
UNISON and Brighton Unemployed Workers Centre and based at Leach Court swung
into action and in March 2007 tenants voted by a massive 77%-23% to remain
under Council control.
Times Investigation


Indeed there is very little for Bick-Moore to do as the facts are already
clear. The Times [Keep
costs of cladding down, tower experts told] of June 30th quotes
from a tranche of e mails between the Council and its contractors. It revealed that fireproof cladding for
Grenfell Tower was downgraded to save £293,000.
The project management consultants, Artelia UK came under pressure to
reduce costs. What is termed an 'urgent
nudge email' from the KCTMO said 'We need good costs for Cllr Feilding-Mellen
and the planner tomorrow at 8.45 am!'
Feilding-Mellen was deputy leader of Kensington Council and together
with Nicholas Paget-Brown has now resigned.
Whereas zinc panels which are non combustible has
originally been planned, aluminium ones were substituted as part of costs
savings of £693,000. Use of the zinc
panels themselves would have added just £5,000 to the overall costs.
The purpose of having cladding at all was in order that the
block was considered an eyesore for residents in the better off north part of
the borough. Originally the preferred
bidder was Leadbitter whose estimate was £11.278m, however the housing committee
was not happy. As their minutes stated
this was '£1.6m above the current,
proposed budget.' This in a Council with
an estimated £300m in reserves. So in
August 2013 the KCTMO invited bids between £8m and £10m. On June 2nd
the contract was awarded to Ryon. The
main focus of the discussion between Rydon and KCTMO was on the appearance of
the cladding. Should it be 'champagne'
or 'natural brushed aluminium'. The
latter won out.
As long as the imperative is to extract as much as
possible, Kensington Council was making a surplus of some £16m on its housing
revenue budget, whilst denying tenants any say or control over the management
of housing, then the same state of affairs will continue. Combine this with the cutbacks in housing
repairs and austerity and Grenfell Tower was an accident waiting to happen.
Tony Greenstein