Jeremy Newmark, Chair of the Jewish Labour Movement expresses his eagerness to see Marc Wadsworth, a well-known Black activist and myself expelled from the Labour Party – the Press Conference was for a Report on all forms of racism not just an 'anti-Semitism event'
At Monday's meeting of the Labour Party's National Executive Committee we had the ludicrous spectacle of two well-known Black anti-racists being referred to Labour's Star Chamber otherwise known as the National Constitutional Committee. Their offence was to upset Labour's Zionist lobby. I am told that Jeremy Corbyn did not bother to make an appearance at the meeting.
The Huffington Post article below is an example of the wilful distortion and ignorance surrounding Jackie's remarks. Huffington states that Jackie 'had wrongly claimed that the annual holocaust day did not include non-Jewish genocide victims,' before going on to quote her as saying '"Wouldn't it be wonderful if Holocaust day was open to all peoples who've experienced Holocaust?" Clearly she wasn't saying that the Holocaust didn't include non-Jews. What she was saying was that some non-Jewish victims of genocide, i.e. those murdered before WW2, were not included. Like for example the 10 million Africans who perished in the Belgian Congo early in the last century or the 14 million or so Africans who perished as a result of the Atlantic slave trade.
Rhea Wolfson – Zionist ally of Jon Lansman – also on Zionist Trot Group AWL's Clarion Editorial Board
The fact that the 'training session' was secretly recorded and that someone contributing to what was supposed to be a genuine discussion is allowed to be singled out for discipline is
outrageous enough.
Instead we had precious Rhea Wolfson, who Jon Lansman was responsible for putting on the Left slate last year, without any prior discussion, speaking passionately by all counts over the anti-Semitic harassment she has experienced. She may well have been the object of anti-Semitism but that doesn't justify her supporting the racist expulsion, because that is what referral to the NCC means in practice, of Jackie Walker. Jackie Walker was not responsible for Wolfson's harrassment, if that is what it was. What we have is a White woman who supports the racist Israeli state scapegoating a Black woman.
Wolfson is a member of the Jewish Labour Movement, which calls the Israeli Labour Party its '
sister
' party. The Leader of the ILP, Isaac Herzog is a notorious racist. He recently spoke of his
nightmare
scenario – having an Arab Prime Minister in Israel. Isaac Herzog also said that the Israeli Labour Party should not be seen as an 'Arab lovers party' . The National Front and assorted fascists used to talk about people being 'Jew lovers' or 'Nigger Lovers'. This is the racist swamp that Rhea Wolfson and the Jewish Labour Movement play in and then they have the audacity to accuse Black anti-racists of 'anti-Semitism'. Only one member of Labour's National Executive voted against the referral, Peter Willsman.
Christine Shawcroft voted to refer Jackie, on personal as much as political grounds. Ann Black is a lost cause and it is a wonder why she ever was on a 'left' slate having been party to the suspension of Brighton DLP last year for not voting for Progress candidates. It is abundantly clear that neither Black nor Wolfson should be supported for elections to the NEC next year.
Marc Wadsworth was set up at the Chakrabarti press conference when he called out Ruth Smeeth MP, someone who has been named as a US state asset, for liaising with that well-known Labour supporting paper, the Telegraph.
Tony Greenstein
POLITICS
Momentum Activist Jackie Walker Facing Labour Expulsion Over Anti-Semitism
Among more than a dozen cases considered by party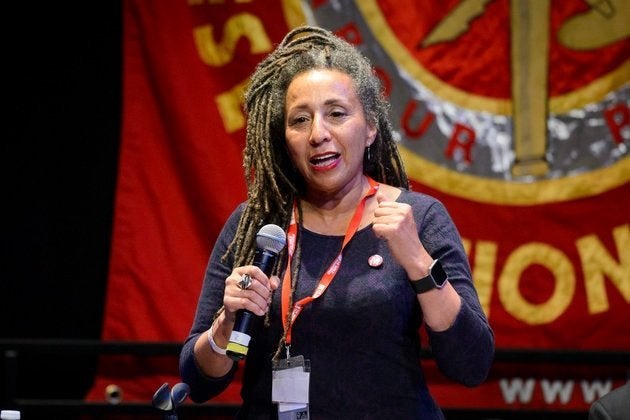 Matt Crossick
Momentum
activist Jackie Walker is facing expulsion from the Labour party after
allegations of anti-semitism were referred to a full disciplinary
hearing.
Walker
will have to give evidence to the National Constitutional Committee
(NCC), a quasi-legal body which has the authority to kick out members
accused of the most serious breaches of party rules.
An
ex-vice chair of the steering committee of Momentum, her Labour
membership was suspended after HuffPost UK published a video of her
making remarks about Holocaust Memorial Day at the party conference last
September.
She
had wrongly claimed that the annual holocaust day did not include
non-Jewish genocide victims, claimed she had not found a definition of
anti-semitism she could "work with" and questioned the need for security
in Jewish schools.